Created and Performed by Jerrell L. Henderson
I Am The Bear is a personal story from creator Jerrell L. Henderson about his experience being racial profiled by police on Chicago's North Shore. It was originally developed as a monologue for the stage.
About the Development
Additional Context
About the Puppeteer
About the Development
About the Development of I Am the Bear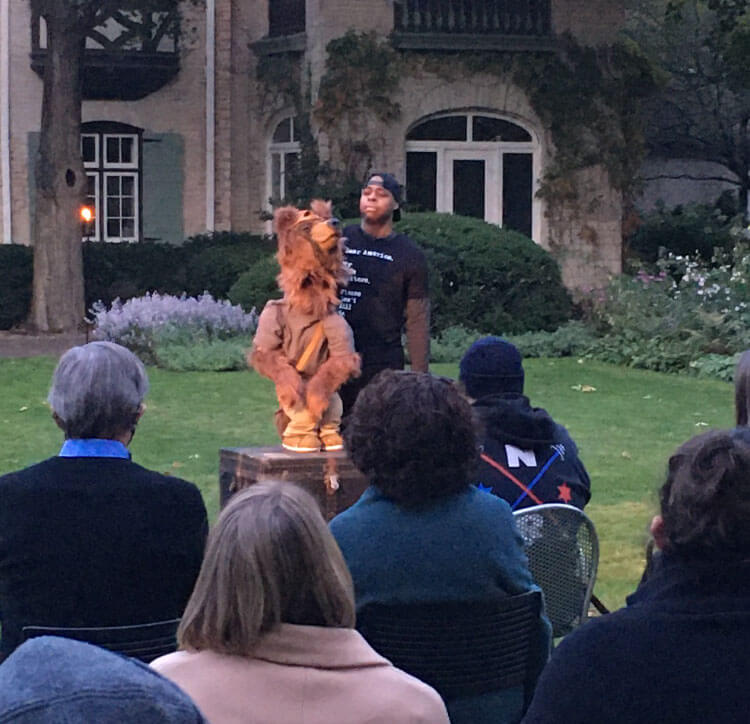 At the onset of the pandemic, The Chicago International Puppet Theater Festival invested in the development of the work to encourage dialogue and support professional puppeteers working in the field.
Henderson worked with Festival Founder and Artistic Director, Blair Thomas and in the fall of 2020, the piece was transformed into a puppet performance for the 2020 Living Room Tour fundraisers on Chicago's North Shore with support from the Puppet Festival's Board of Directors and Living Room Tour committee.  The reception was overwhelmingly positive. We thank our many supporters for their consistent thoughtfulness and encouragement to distribute the work more widely.
When the opportunity arose to document the work on video for greater distribution, we applied for and received a grant from the Illinois Department of Health & Human Services Healing Illinois and The Chicago Community Trust to do so.  The piece was filmed on location at Segundo Ruiz Belvis Cultural Center, a past Festival partner for our Free Neighborhood Tour.

Video production begins at Segundo Ruiz Belvis Cultural Center

Co-Director & Cinematographer, Kenneth Richardson with Jerrell L. Henderson

Kelly McElligott Cinematographer and Kenneth Richardson in process with Jerrell L. Henderson
We hope that this piece will be used to open the way for conversation and initiate deeper thought about race, profiling and policing from a place of compassion.  If you know of a facilitator or organization working in racial healing, who might be interested in sharing this work with a group for this purpose, please reach out via info@chicagopuppetfest.org.
Additional Context
About the Puppeteer