2022 Festival Archive: Joshua Holden
Joshua Holden:
The Joshua Show
January 28-29, 2022
Chopin Theatre
Presented by Chicago International Puppet Theater Festival
Scholarship and Resources
Contagious Joy: The Joshua Show
The journey of The Joshua Show started in 2013 when Joshua Holden was supposed to create a piece with his friend Casey. Holden indicated in an interview that, in the end, Casey pulled out, and he was left to create a piece on his own for the first time. He did not know what to do, so Casey asked him, "What do you daydream about?" He told her that he daydreams about being the next Mister Rogers and making content that leaves people feeling good and joyful. Casey advised Joshua to do just that. She also told him she had a whole bag full of sock puppets if he wanted to use one, so he went over to her house and grabbed a grumpy-looking sock that became the puppet Mister Nicolas. Joshua took the sock puppet home, tore it apart, stitched it back together and put some arms on him. Mister Nicolas was the first puppet he ever made.
Joshua began to make a short ten-minute piece that was supposed to be for adults but in the form of a spoof of a children's television show. There was no intention for this piece to go anywhere: Holden would do the show and afterward throw the puppets away. However, people were excited about it after he presented it to an audience, thinking it was an excerpt from a more extensive work. From there, he expanded the piece to 40 minutes, which he then took to the 2013 Puppeteers of America National festival. There, Holden won Best Performance and was voted an Audience Favorite.
The version Holden performed for the Chicago International Puppet Theater Festival 2022 at the Chopin Theater started in 2015. He was feeling disheartened with how people were treating one another. This was the first time he had noticed a real ugliness in the world, such as school shootings and politicians saying things on the air that could be disrespectful to others. There have been a few times when Holden felt he was done with the show and was ready to write a new one, but that has not happened yet. What kept prolonging the performance was another tragedy: COVID-19. 
When the pandemic occurred, he was offstage, having not performed for 19 months. As a child, Joshua always wanted to be a performer. He was a singer, dancer and actor obsessed with vaudeville, but he never dreamed of being a puppeteer. The first puppet show Joshua was part of was for the Chicago Children's Theater in 2007. Blair Thomas hired him as an assistant, taking Holden under his wings and giving him an excellent puppetry foundation. The Joshua Show highlights all of Holden's performance skills. Since he is obsessed with vaudeville, the flavor of that shows up in various forms throughout, with a particularly strong influence on the musical routines. The song-and-dance numbers with musician Jeb Colwell create a happy mood. One of the most memorable is a beautiful upbeat song about snail mail, "Slow and Steady Wins the Race." The Snail Mail puppet brings the word of the day—"contagious"—only instead of being something fearful, it is about spreading contagious joy. This show was at the right time and place, since we were all coming out from under the shadow of the pandemic. What was amazing to me was that some audience members had seen a 20-minute version of the same show a week earlier. That this version was updated and highly polished in such a short amount of time is remarkable. 
In conclusion, regarding the fears that people are feeling from the pandemic and the fear from politics and other things, Holden does not refer to these events in particular but rather to fear in general. The piece is timeless. Holden's voice is empathic. Like Mister Rogers, he does not shy away from challenging issues but addresses them indirectly. What is lovely is that the audience has some say in it. When Joshua asks the audience what their superpower is, one audience member says that she was a nurse during the pandemic. Another person says that she is a teacher. The audience becomes a community of support for each other as they applaud. Thus everyone has a place at the table. Like Mister Rogers, Joshua tries to get the puppet Mister Nicolas to build a positive relationship with himself, which brings us, the audience, to a better, healthier relationship with ourselves: We feel valued. The show may have had a vaudeville feel because of the curtain, the tap dancing and the music, however, it was much more than a variety of skits put together. It was a healing show that created love and support for everyone there. We all left the theater smiling.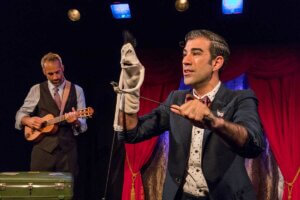 January 27-29, 2022
Chopin Theatre
1543 W. Division St. in Wicker Park

With live music by Jeb Cowell
Spend some time with The Ambassador of Joy and award-winning puppeteer, Joshua Holden. The Joshua Show, could cheer up even the grumpiest grump, like Joshua's right-hand man, Mr. Nicholas, who is planning an escape to outer space. With singing, tap dancing, and a cast of zany puppets, Joshua sets out to convince Mr. Nicholas to stay, and in doing so, he brings glee to the masses. Relax your smile muscles now because The Joshua Show will have you smiling from ear to ear with contagious joy. Joshua Holden debuted The Joshua Show at Nasty Brutish and Short in Chicago in 2012. He then took it to the Puppeteers of America's National Festival, where it was awarded "Best Performance" and "Fan Favorite." He has been touring the show internationally ever since.
Past Performances and Further Reading