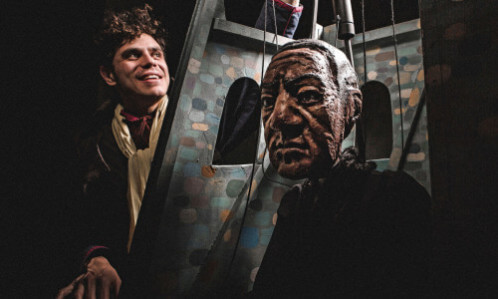 "The Selfish Giant" is part of a great line-up of shows at the Chicago International Festival of Puppet Theatre, which begins this week in Chicago, Illinois (photo: Joe Mazza).
Asia
Krista Dalby shares her experience with Puppets Without Borders in Cambodia.
Africa & The Middle East
Tobias Husemann's giant illuminated puppet Dundu made a New Year's visit to Egypt.
An in-depth look at South Africa's Handspring Trust.
Australia & New Zealand
Ninety-five year old New Zealand puppeteer Franki Wood has been entertaining audiences for 86 years.
Europe
The puppetry community is among the millions around the world protesting and showing solidarity after this week's terrorist attacks in France.
UNIMA has issued a statement rejecting all forms of violence and terror.
Scotland is getting ready for the 2015 Manipulate Festival in late January.
Step inside the personal space of puppeteer and Downton Abby actor Jeremy Swift.
Blind Summit Theatre looks back at ten years of Madame Butterfly.
Penny Francis shares the history of The Puppet Centre in the 1990s.
The Materia Prima international puppetry festival takes place February 21st – 28th in Krakow, Poland.
North America
The first-ever Chicago International Puppet Theater Festival begins this week in Chicago, Illinois.
January has upcoming Handmade Puppet Dreams Film Screenings in Florida and Philadelphia.
A look at the Louisville puppetry company, The Squallis Puppeteers.
Puppets made by sisters Jeanne Bunch and Judy Pitts send missionaries to India.
Nashville puppeteer Matt Sandbanks is building his reputation in shadow puppetry.
Remembering the life of American puppeteer Nick Barone.
Auditions and Job Opportunities
Asbury Memorial Theatre is looking for American puppeteers in Savannah, Georgia for a biographical musical based on the life of P.T. Barnum.
Calls for Entry
The Academy Award qualifying Atlanta Film Festival is looking for short puppet films; Contact Beau Brown to submit your film for consideration.
Proposals to perform at the first ever Festival Internacional de Títeres Leovigildo y Angelito in Bogota, Columbia are now being accepted (link goes to a Spanish language web site).
Workshops and Training Opportunities
Sandglass Theater's Eric Bass and Ines Zeller Bass teaches Living in the Puppet's World: A Workshop on Breath in Manipulation at London's Little Angel Theatre on February 8th.
Norman Schneider is teaching puppet building workshops in Germany throughout the year.
The Old Trout Puppet Workshop's Peter Balkwill teaches a puppetry masterclass during the Casteliers Festival in Montreal, Canada. Contact communications@aqm.ca for more information and registration.
Also in Montreal, French shadow puppeteer Jean-Pierre Lescot teaches his workshop The Shadow and its Double February 26th and March 3rd.