by Scott C. Morgan
Strings attached, or a hands-on, tabletop approach?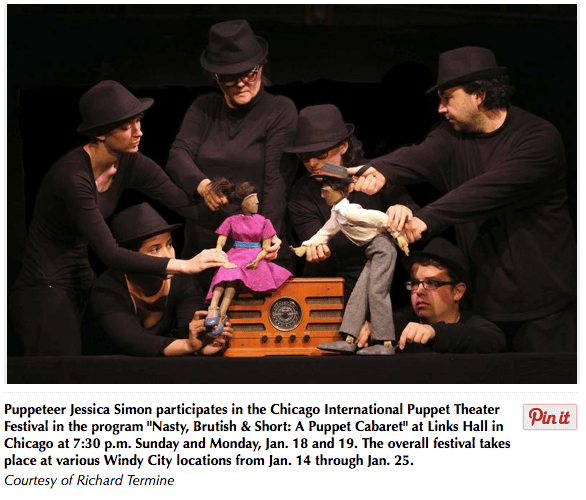 That's a provocative question when it comes to how best to manipulate a mermaid marionette named Miss Sandy Bottoms. And that question is being faced by Kat Pleviak, the artistic director of Glen Ellyn-based Sea Beast Puppet Company — one of more than 25 troupes participating in the inaugural Chicago International Puppet Theater Festival running from Wednesday, Jan. 14, to Sunday, Jan. 25, at various venues across the Windy City.
"We're doing six or seven pieces total between Links Hall and the Field Museum, each about five minutes long," said Pleviak, happy to showcase the artistic range of the six-year-old Sea Beast Puppet Company. "We do lots of short works and we use those as opportunities to experiment with different types of puppetry. And since they're short, it's easier to adjust them."
Chicago-area audiences can see a wide range of techniques and storytelling approaches spread across the more than 50 performances slated for the festival. Some shows are free or family-friendly, while others demand more grown-up crowds.
"My goal is to change the definition of puppetry for the Chicago audience — for them to see how broad the field of puppetry can be," said Chicago International Puppet Theater Festival founder Blair Thomas, noting that some folks still might dismiss puppetry as only kids' stuff. "I want Chicago to be a center for the cultivation of puppetry."
Thomas felt the time was right to launch what he hopes to be a biennial festival, especially in the wake of such blockbuster puppetry-filled Broadway hits in the past two decades as "The Lion King," "Avenue Q" and "War Horse." Thomas not only wants to showcase the puppetry creations of local artists, but to bring in international troupes that come from more firmly established puppetry traditions.
"The appeal of puppetry is broad and that's what I was capitalizing on," Thomas said, noting that the diverse presenting organizations for the festival range from the University of Chicago to museums like the Art Institute of Chicago. "Everyone is already doing something that they've already been doing and they just needed to be coordinated for the festival."
In some cases, that means the return of acclaimed productions previously seen in Chicago. London-based Blind Faith is back with its Moses-inspired piece "The Table" at Chicago Shakespeare Theater, while the 2008 Blair Thomas & Co. marionette adaptation of Oscar Wilde's allegorical story "The Selfish Giant" is being revived under the auspices of Chicago Children's Theatre.
There are new works like Chicago-based Manual Cinema's "Mementos Mori," a filmic multimedia shadow play with live actors at the Museum of Contemporary Art. And then there are centuries-old stories like "Monkey King" and "Journey to the West" being retold by New York-based Chinese Theater Works at the Field Museum.
"Puppetry is a form that's intimately connected with the nonrational and the imaginative and there's more of a place for that in our culture," Thomas said. "It can be both powerful and almost sacred, and then it can be profane and you see that in the Broadway shows that have used puppetry. And it's a such a theatrical language and it cuts across so many barriers that otherwise divide us."
Pleviak of Sea Beast has traveled to international puppet festivals ranging from Detroit to Perth, Australia. She hopes the Chicago fest will live on beyond this initial outing.
"The cool thing about international festivals is that you get to meet a ton of puppeteers and see a lot of work that you wouldn't see otherwise," she said, "so I just love it that we're doing it here in Chicago."
View the article online.