Théâtre de L'Entrovert & Chicago Puppet Fest present:
Théâtre de L'Entrouvert:
Anywhere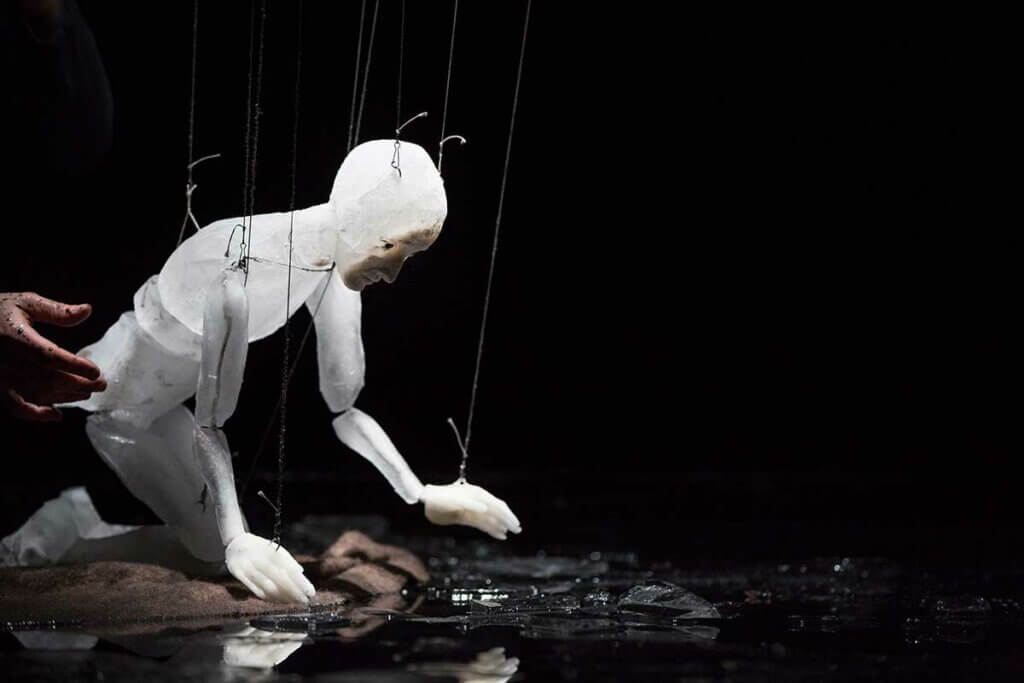 US Premiere
A marionette made of ice will melt your heart in Anywhere, an exquisite, landmark string-marionette work created by the French company Théâtre de l'Entrouvert. Freely inspired by Henry Bauchau's novel "Oedipus on the Road," Anywhere evokes the long wandering of Oedipus accompanied by his daughter Antigone. The fallen Oedipus appears in the form of an ice puppet that gradually melts, then appears as mist and finally disappears in the forest, the place of clairvoyance. Anywhere traces with gentleness and strength a poetic journey, in black and white, of fire and ice, which speaks to us about our bodies, our environment, our fragilities, and our wanderings in the infinite circle of renewal.
The Chicago Puppet Festival and Théâtre de l'Entrouvert are working in close collaboration setting this work on a U.S.-based ensemble, led by Chicago puppeteers Mark Blashford and Ashwaty Chennatt, who are traveling to Ales, France this winter to observe performances of the work in Ales and learn the complexities of performing with ice. Following its debut, the Chicago Puppet Festival plans to tour the work nationally starting in 2023.
With special support from: Ferdi Foundation/Julie Moller, Jentes Family Foundation, Justine Jentes & Dan Karuna, and the Manaaki Foundation
Event Details
Dates/Times:
Thursday, January 19 at 7:30pm
Friday, January 20 at 7:30pm
Saturday, January 21 at 7:30pm
Sunday, January 22 at 4pm
Monday, January 23 at 2pm

Location: The Chopin Theatre (mainstage), 1543 W. Division St.
Cost: $40/$30 students & seniors
Ages: 12 and up 
Running Time: 50 mins
ADA Accessible? Yes

About the Artists
Théâtre de l'Entrouvert was created in 2010 by Elise Vigneron trained in plastic arts, circus arts and puppetry arts (graduate of the École Nationale Supérieure de la Marionnette in Charleville-Mézières). At the crossroads of disciplines, the Théâtre de l'Entrouvert supports a contemporary vision of the puppetry arts, while drawing inspiration from its origins. lentrouvert.com
About the Venue
Suggested Events for You: