Chicago Puppet Fest presents:
Robin Frohardt

:

The Plastic Bag Store
January 20-30, 2022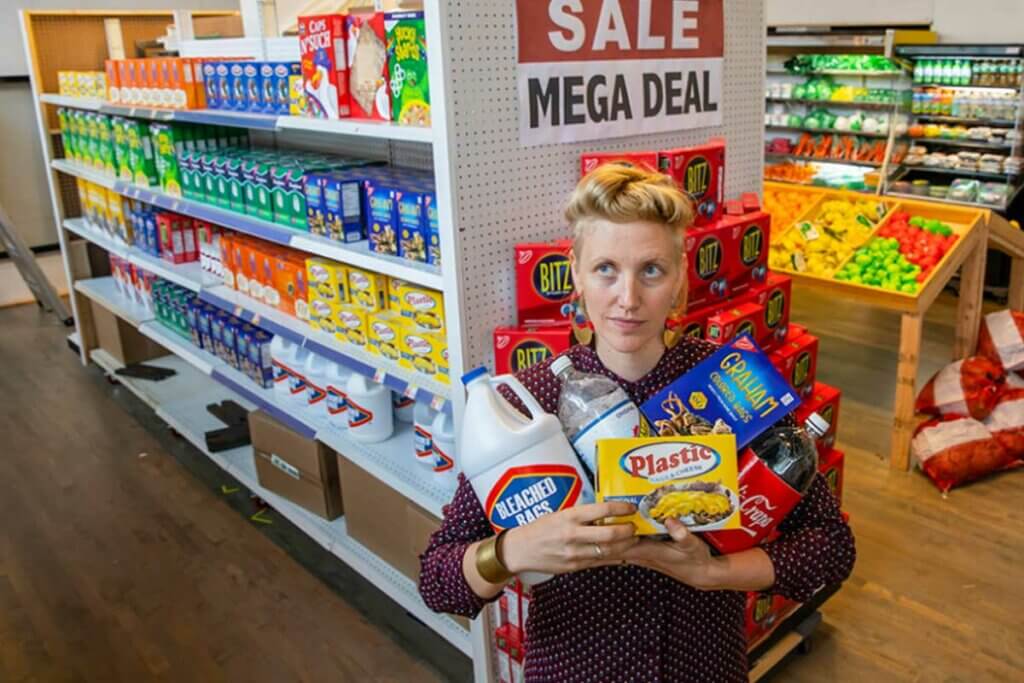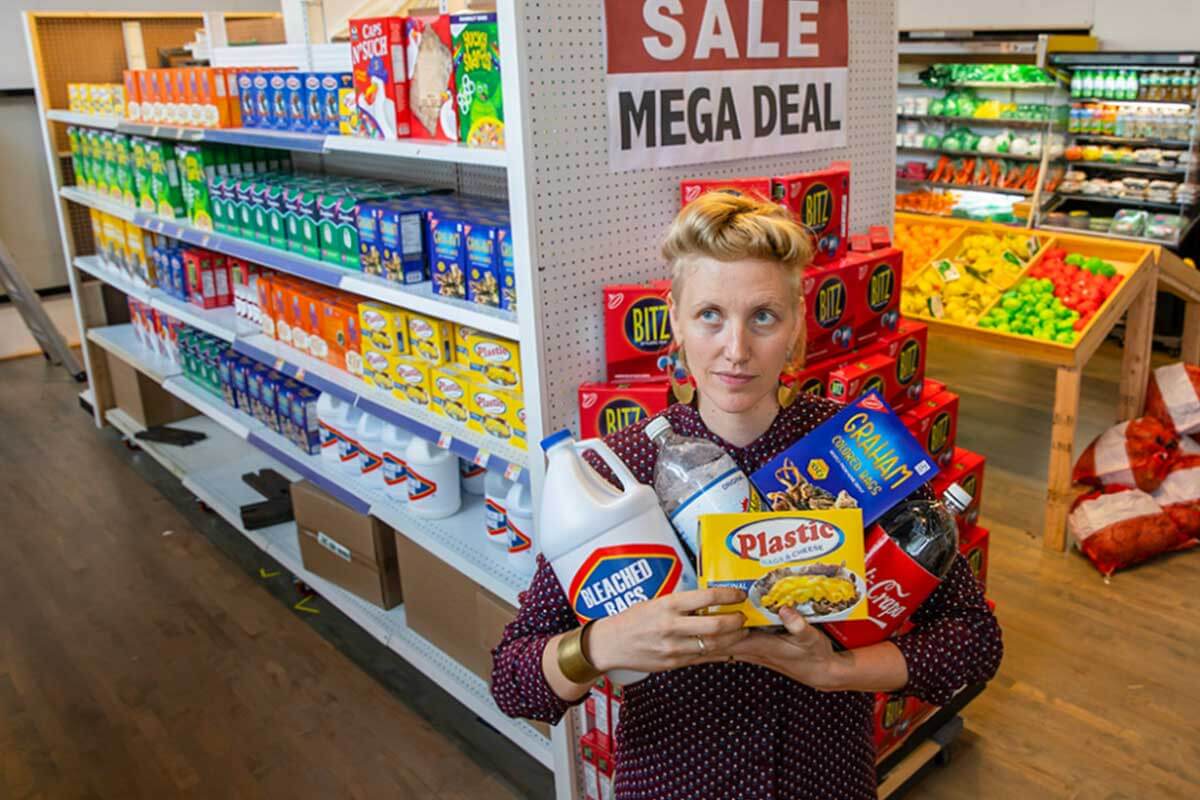 The Chicago International Puppet Theater Festival "anchor attraction" is The Plastic Bag Store, open for the duration of the festival in a street-level storefront in Chicago's Wrigley Building. New York artist Robin Frohardt's tragi-comic ode to the foreverness of plastic appears to be a storefront grocery, but it's actually stocked with hundreds of hand-made items—fruits, vegetables, sushi, deli meats and more — all crafted from organic NYC trash. Several times a day, the Store transforms from an installation into a micro-cinema for a series of dynamic puppet-films that transport the audience from the distant past into a dystopian future. With her distinct sense of humor, Frohardt challenges us to think about how future generations will misinterpret us by the waste we leave behind.
This Chicago presentation of The Plastic Bag Store was made possible by generous support from:
The Plastic Bag Store is commissioned by Times Square Arts with generous support provided by the Rockefeller Brothers Fund; The Andy Warhol Foundation for the Arts; the New York State Council on the Arts with the support of Governor Andrew M. Cuomo and the New York State Legislature; the National Endowment for the Arts; public funds from the New York City Department of Cultural Affairs in partnership with the City Council. Additional commissioning support has been provided by Carolina Performing Arts, University of North Carolina at Chapel Hill. It was developed with support from: MANA Contemporary, The Made in NY Women's Film, TV & Theatre Fund by the City of New York Mayor's Office of Media and Entertainment in association with The New York Foundation for the Arts; Olson Kundig; The Jim Henson Foundation; and is sponsored, in part, by the Greater New York Arts Development Fund of the New York City Department of Cultural Affairs, administered by Brooklyn Arts Council (BAC). The Plastic Bag Store is a project of Creative Capital.
The Plastic Bag Store film segments were commissioned by UCLA's Center for the Art of Performance with additional support by the Adelaide Festival.
Co-Produced by Robin Frohardt and Pomegranate Arts
About the Artist
Robin Frohardt is an award-winning artist, puppet designer, and director living in Brooklyn, NY.  She received a Creative Capital Award and a DisTil Fellowship from Carolina Performing Arts for The Plastic Bag Store, which was presented in partnership with Times Square Arts in 2020 and was named to the NY Times Best of 2020 Theater list. Frohardt's performance and puppetry-based work has been presented at St. Ann's Warehouse and HERE in New York City, as well as national venues including the Pittsburgh International Festival of Firsts and the NEXTNOW Festival in Maryland. Her films have been screened at the Telluride Film Festival, Aspen Shortsfest, Maritime Film Festival at the Parish Museum and Puppets on Film Festival at BAM. Her original play The Pigeoning, which debuted in 2013 and was hailed by the New York Times as "a tender, fantastical symphony of the imagination," has been translated into German, Greek, Arabic and Turkish. She has been the recipient of Made In NY Women's Fund Grant Award and a Guggenheim Fellowship. She is a MacDowell Fellow and a member in good standing of both the Walgreens and CVS Rewards Programs. robinfrohardt.com
About Pomegranate Arts
About the Venue
Suggested Events for You: