Chicago Puppet Fests presents:
Basil Twist:
Symphonie Fantastique Film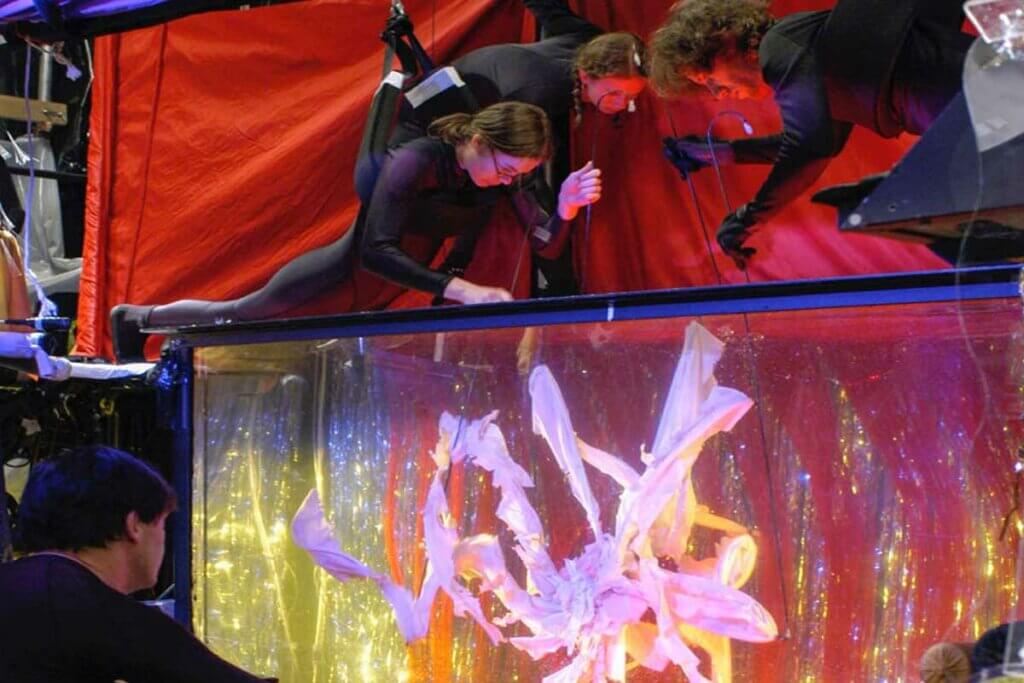 In 1998, puppeteer Basil Twist debuted his boundary-breaking response to Berlioz's 1830 "Symphonie Fantastique" to universal acclaim. In the two decades since, Twist became an internationally recognized artist in opera, ballet, and on Broadway, winning countless awards including the illustrious MacArthur Fellowship. His piece Symphonie Fantastique floated and swirled for a critically lauded and sold-out six-month run at HERE Arts Center in NYC with live accompaniment by the virtuosic Christopher O'Riley playing the exquisite Liszt transcription for concert piano, allowing the finest performances to be captured in front of, behind, and inside a 1,000-gallon water tank by Twist and director Bobby Sheehan. Soon after, while on a Rome Prize fellowship, Twist collaborated with master Italian film artisans resulting in Twist's first full-length film, weaving imagery seen by the audience with the unseen backstage ballet of the puppeteers and the emotional synergy of the live musical performance.
Event Details
Dates/Times:
Tuesday, January 24 at 6pm
Location: Studebaker Theater, 410 S. Michigan Ave.
Cost: $15/$10 students & seniors
Ages: All Ages
Running Time: 55 mins
ADA Accessible? Yes
About the Artist
Basil Twist, a third generation puppeteer, has significantly contributed to the art of puppetry since 1998, known worldwide for creating original abstract adult puppet works focused on their integration with music. His famous work Symphonie Fantastique, which takes place in a tank of water, is performed to the symphony of the same name. (A new film version is screening Tuesday, January 24 at 6 p.m. at the Studebaker Theater as part of this year's festival.) In 2010, Twist created the puppetry for the Broadway productions of The Pee-wee Herman Show and The Addams Family. Other works include La Bella Dormente nel Bosco, Petrushka, Hansel and Gretel, Master Peter's Puppet Show, the Araneidae Show, Behind the Lid, and Arias with a Twist. He has received national and regional recognition through numerous awards, including a Rome Prize from the American Academy in Rome, an Obie Award, a Creative Capital Award in the discipline of Performing Arts and a Guggenheim fellowship. He was a Fall 2015 MacArthur Fellow at the NYU Center for Ballet and the Arts. He attended Oberlin College and graduated from the École Supérieure Nationale des Arts de la Marionnette in Charleville-Mézières, France. He is founder and director of the Dream Music Puppetry Program at Here Arts Center in NYC. His newest project is leading the puppetry in the Royal Shakespeare Company adaptation of My Neighbor Totoro at the Barbican Theatre, London. Basiltwist.com
About the Venue