by Mommy Nearest
The holiday chaos may have cleared, but there is still plenty to do around Chicago! Kick off the new year by viewing Kohl Children's Museum's newest exhibit, attending a dinosaur extravaganza or seeing Chicago Children's Theatre's latest production. Read on for our favorite events in January 2017 for Chicago families.
1. Enchanted Railroad at Morton Arboretum
The Morton Arboretum4100 Illinois Route 53
Lisle, IL
The arboretum's annual holiday train runs from January 13 through February 19. There are two levels of trains in this popular exhibit, which features a model railroad winding through a four-season display. Pick up free, timed tickets at the information desk.
Cost: Adults $14, children $9, free for ages 2 and under.
---
2. Discover the Dinosaurs: Unleashed at Donald E. Stephens Convention Center
Donald E. Stephens Convention Center5555 N. River Road
Rosemont , IL
Calling all dino-lovers for this dinosaur extravaganza at the Donald E. Stephens Convention Center from January 13 to 16. Kids will love climbing through inflatables, strolling among roaring, animatronic dinosaurs, digging up fossils, and riding in Jurassic-themed bumper cars.
Cost: Adults $24, children $28.
---
3. Naperville Plays at DuPage Children's Museum
DuPage Children's Museum301 North Washington Street
Naperville, IL
On January 14, come to DuPage Children's Museum for a day of hands-on art and activities provided by the museum along with Naper Settlement and Naperville Public Library. Be sure to stop by the traveling Dream With Da Vinci exhibit before it closes in April. Make sure to read our guide to Naperville while you're in the area!
Cost: Included with museum admission—$12.
---
4. Hundred Dresses at Chicago Children's Theatre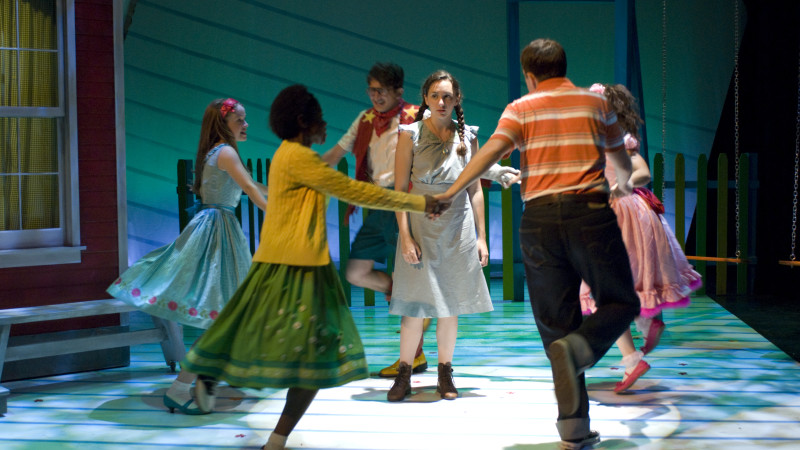 Chicago Children's Theatre1016 N. Dearborn St.
Chicago, IL
The Hundred Dresses returns to the Chicago Children's Theatre this winter (January 17 to February 12). Based on Eleanor Estes' children's novel and adapted by Ralph "Ralph's World" Covert and G. Riley Mills, the show tells the story of a girl who struggles to fit in and make friends in her new school.
Cost: Adults $39, children $28.
---
5. Chicago International Puppet Theater Festival
Chicago is the puppetry capital of the world, so why not introduce your kids to the thriving art at the Chicago International Puppet Theater Festival. For eleven days (January 19 to 29), families can see stellar shows from around the world, like the family-friendly Plastique from Montreal, and plenty that are from right here in Chicago. See a full line-up of shows on their site.
Cost: Varies based on show; see website for details.
6. Children's China at Kohl Children's Museum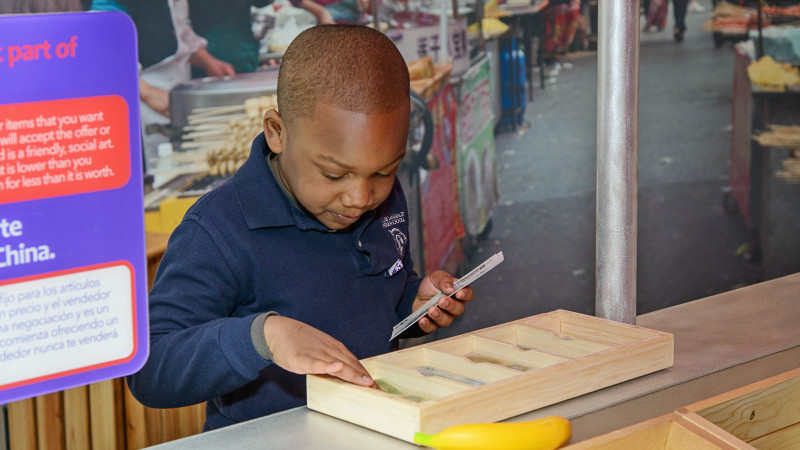 Kohl Children's Museum2100 Patriot Boulevard
Glenview, IL
Save on airfare and learn about present-day activities that Chinese families practice and Confucius' teachings at the Children's China exhibit at the Kohl Children's Museum. This temporary exhibit, opening January 20, will teach your kids how to write "Thank you, teacher" in Chinese, be a researcher at a panda preserve and what their lunar calendar animal is.
Cost: Included with museum admission—$12.
---
7. Polar Adventure Day at Northerly Island
Northerly Island1521 South Linn White Drive
Chicago, IL
Chicago Park District's celebration of winter on January 21 from noon to 4pm includes tours of Northerly Island, free snowshoe rental (if there's snow, of course), hot cocoa, and a chance to interact with Siberian huskies, wolves and birds of prey from nearby Flint Creek Wildlife Rehabilitation Center. There will also be storytelling, music and crafts inside.
Cost: Free; nearby parking is $3 and is limited.
---
8. #MNPlaydate at Children's Learning Place
Children's Learning Place (Logan Square)3121-29 W Fullerton Ave
Chicago, IL
Make 2017 your most zen year yet and attend this free Mommy & Me yoga class at either 10am or 11am on January 22 at Children's Learning Place. After a 30 minute class of deep breathing and simple poses, there will be crafts and open play! Tickets are free, but be sure to RSVP.
Cost: Free, but you must RSVP here.
---
9. Miss Jamie from the Farm at Beat Kitchen
Beat Kitchen2100 W Belmont Ave
Chicago, IL
Your family is sure to have hoot at this perfect-for-preschoolers concert featuring Miss Jamie and puppet friends from the farm on January 22. Your whole crew can sing, dance and laugh while learning about healthy eating and sustainable farming at this Beat Kitchen event.
Cost: $6; $7 at the door.
---
10. Justin Roberts & the Not Ready for Naptime Players at Old Town School of Folk Music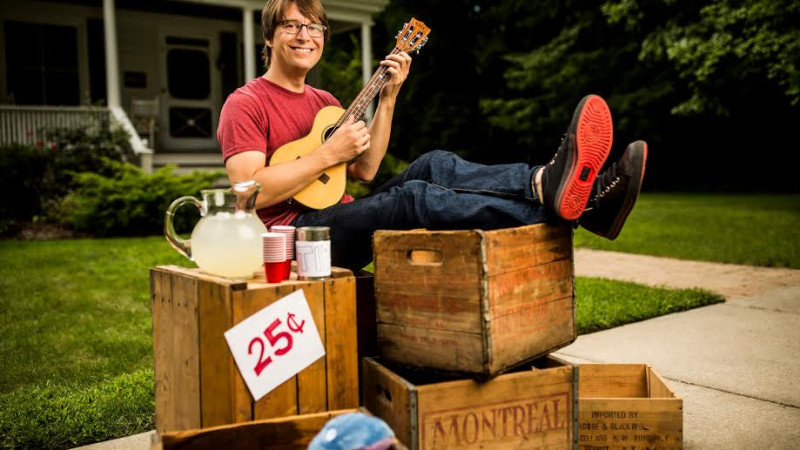 Old Town School of Folk Music909 W Armitage Ave
Chgo, IL
Jam out with two-time Grammy nominee Justin Roberts on January 29 at Old Town School of Folk Music! This kid-friendly performance uses ukuleles, acoustic guitars, cardboard percussion instruments and thoughtful lyrics to convey messages about the difficulty and beauty of life—someting both children and adults can relate to!
Cost: $15.
---
Photo credits: Kohl Children's Museum, Morton Arboretum, Chicago Children's Theatre, Kohl Children's Museum, Todd Rosenberg